The opening ceremony for the 2014 Winter Olympics will begin to air tonight on NBC, but the excitement has already begun thanks to the live tweets from journalists and athletes.  You should pop on over to Twitter and follow #SochiProblems to see all the fun these folks are having.   As one Russian tour guide said it "Russia doesn't have problems. We have adventures."  Oh, it's an adventure all right.   The entire thing is sort of like a theme park and the theme is the Chernobyl nuclear disaster.
Let's start with the scenic views guests will enjoy while walking the grounds of Olympic Park.  If you can overlook the piles of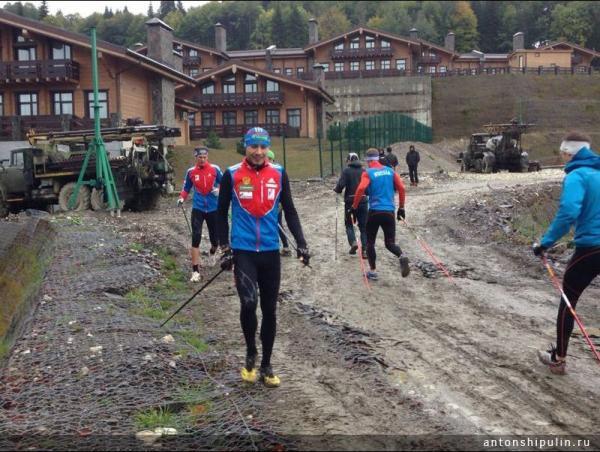 garbage and left over building materials, you might be lucky enough to see some of the athletes training for their events on specially built tracks.  Try  not to stare at the back hoes and construction fence and just concentrate on the skiers, okay?
Now we'll see what's going on at the hotels.  It doesn't look like many of them are quite ready, yet.  Some are missing floors and things like shower curtains, or curtains of any kind, for that matter.  They're already experiencing a shortage of pillows.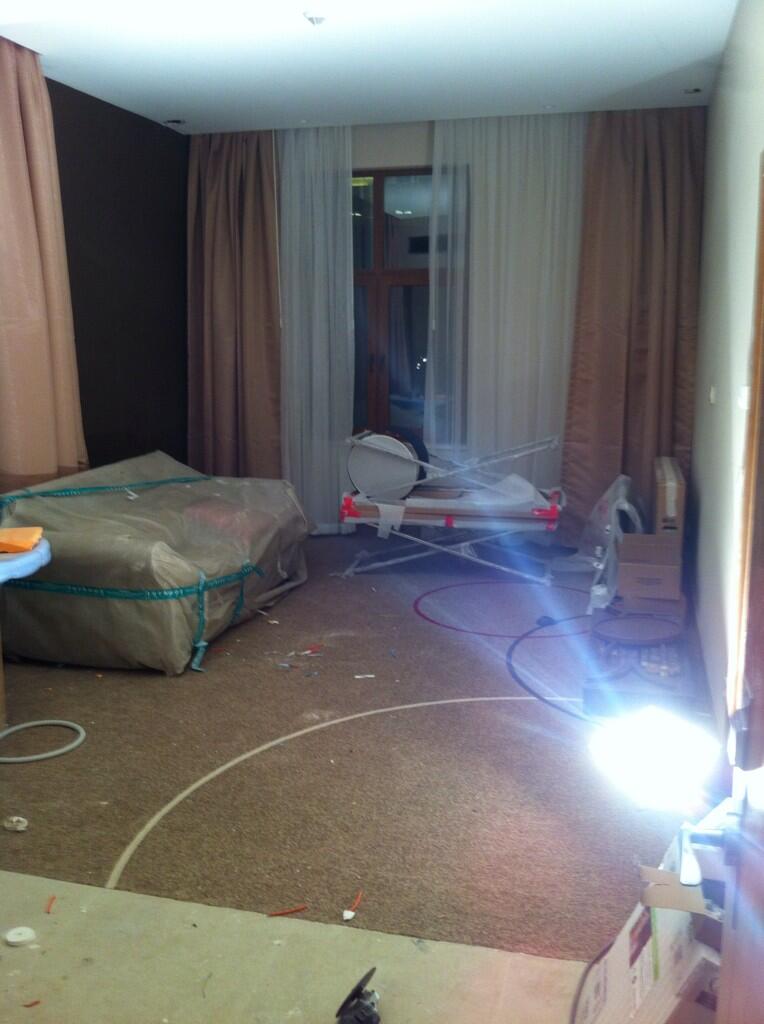 Hotel employees will allow you to borrow a shower curtain, but you have to return it when you're done.  Guests are using basic necessities as currency, as in "I'll trade you two light bulbs for a door knob."  It's a great way to get to know your neighbor.   Some reporters have sent pictures of their laptops, dangling from internet connections installed at ceiling level.  Which brings up another matter – journalists have commented that their computers have been hacked within 60 seconds of making an internet connection.  The things that make you go hmm.  Elevators don't work, fire doors are locked and hotel guests have found that just about anybody can wander into their rooms – hotel staff, construction workers, even stray dogs and cats.  As for the animals, let's just say that they're probably safer in the rooms than they are on the streets.
If you find yourself hungry, the hotels are offering some unusual menu items.  I don't know exactly how to describe these things or if you really want to order them, so a couple of pictures will definitely be worth a thousand words.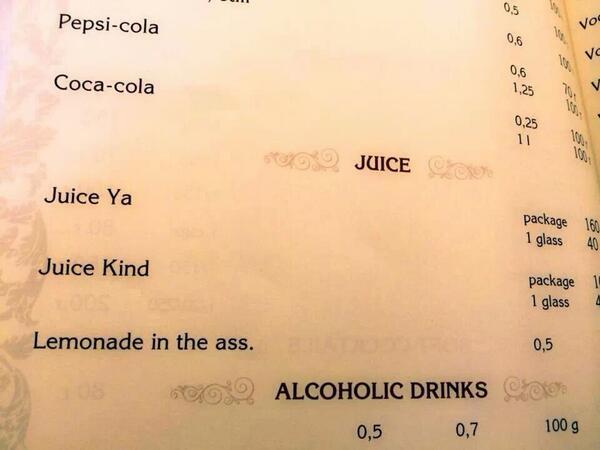 Maybe something was lost in translation, but, if not, it might explain why the major complaints have been about the bathroom conditions.
About those bathrooms.  These have to be the most confusing, frustrating and comical facilities one can imagine.  The thing is, we probably couldn't have imagined, which is why we're grateful for the photos and the comforts of our own indoor plumbing.   These are the instructions for the proper use of the toilet.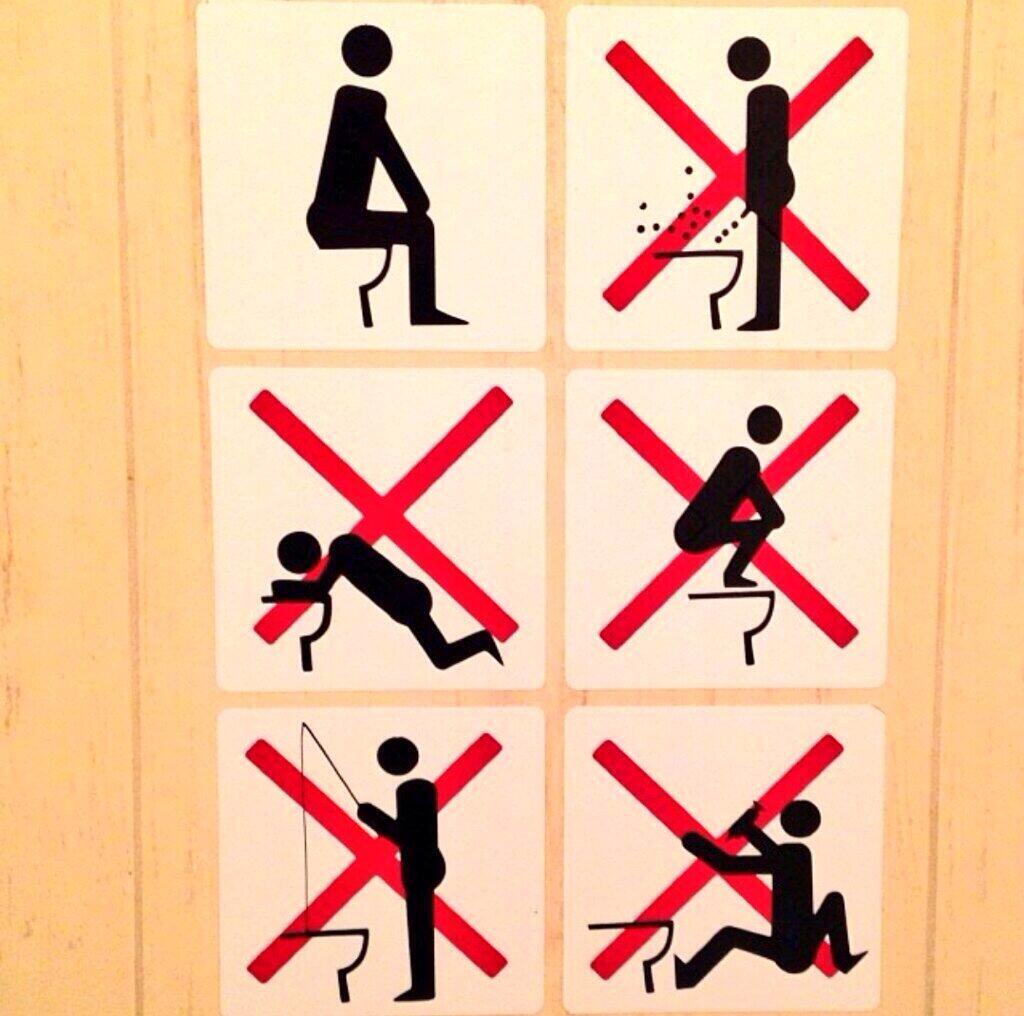 Please note that you may not use them for fishing.  Then there's the toilet paper thing.  You can't flush it, but you must place your used paper into the provided can.  The staff must love that clean up job.
Finally, there's the assorted, strange configurations of the toilets, themselves.  A wide variety of them are available and some should come with instructions as well, like the one with the upside down lid and seat.  Better yet, they should become an Olympic event, with medals given out to those who figure out how to use them without killing themselves or anyone else.  There are toilets set up for the enjoyment of entire teams, others are for couples and yet another is meant for the half-assed guest.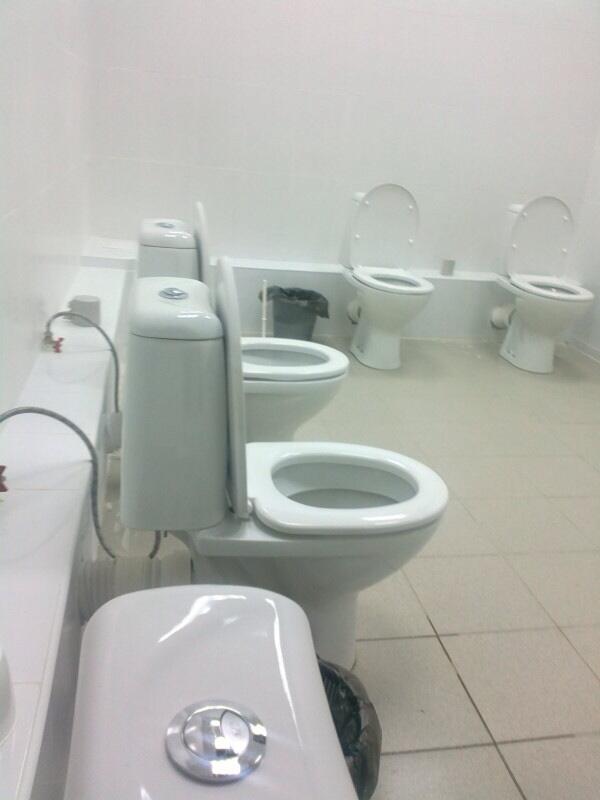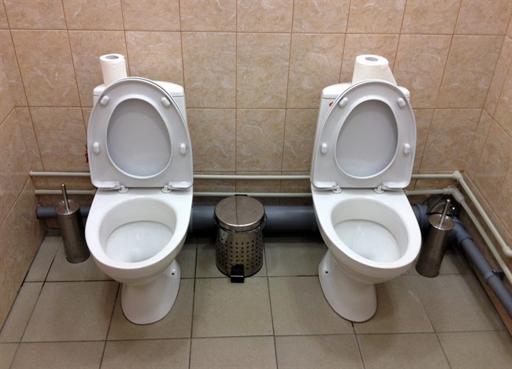 The list goes on, from manholes without covers and water of unknown origin or chemical makeup, to new highways, already crumbling from poor construction.   Russian officials have issued assurances that everything is going to be just fine.  In fact, they've already addressed the poor or nonexistent water conditions by stating that their shower surveillance cameras have provided proof that guests are getting as clean as they want to be.   Kinda makes you feel well-taken care for, right?  Nothing like big brother watching you bathe to get that warm, fuzzy, welcoming feeling. I really think that the press, as well as the athletes should cut the Russians a little slack.  They've only had seven years and a budget of $51 billion to pull this together.  As you can see, the Russian police are doing everything possible to ensure the safety of the Games, including putting an embargo on yogurt.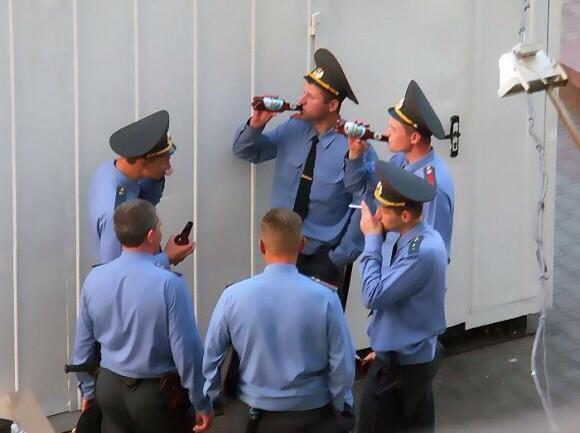 You can't ask for more than that.    If you still find that you need anything, just call your hotel's front desk.   A pre-recorded message from Yakov Smirnoff will wish you a "Happy Sochi Olympics", before putting you on hold until the closing ceremonies.  Let the Games begin!!!
Empress