Justin Bieber is fast-tracking himself into the top spot on the list of celebrities with a lot of money, a little bit of talent and huge sense of entitlement.  Little Biebs managed to get himself arrested in Miami at about 4AM today, reportedly for drag racing his rented Lamborghini through a residential neighborhood, while under the influence of alcohol and prescription drugs.   When the cops pulled him over, JB became belligerent, as if that was any surprise, telling them to get their fucking hands off of him, while refusing to cooperate as they slapped some handcuffs on scrawny wrists.
Here's a photo of Justin being arrested: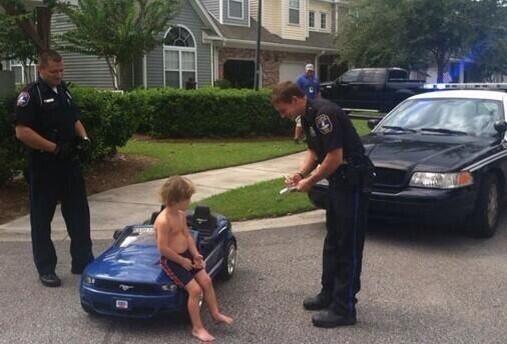 Once he was at the police station, Bieber seemed to have calmed down enough to tell the arresting officers that he had, indeed, had a beer or two or three, to wash down his antidepressants.   JB also posed for the most interesting mugshot I've seen  in a long time.  Now, I've taken a fair share of booking photos in my day, but I don't think I've ever seen anyone as happy as Justin Beiber appeared in his.
He blew a .02 on an intoximeter, which, under normal circumstances, wouldn't even qualify as being under the legal definition for intoxication, but because JB is only 19 years old, any alcohol in his system should mean an automatic suspension of his license.  I say "should" because someone in his camp was smart enough to call Roy Black to represent the Biebs during his initial court appearance.   I can't say that I blame them.   Any one of us would hire the best attorney if we could afford to.
What I can blame him, his entourage and his parents for is their willingness to let the kid turn into the next Lindsay Lohan, Britney Spears, Amanda Bynes – well the list just goes on and on.  His downward spiral has been going on almost as long as his new persona surfaced.  Long gone is the sweet-faced tween who captured the hearts of junior high school girls, only to be replaced by this new guy – the one who think he's a real gangsta.  It would be funny if it wasn't so not funny.     It's almost as if he's on a crusade to prove how tough he is, but his actions are starting to take their toll on just about everybody who comes near him.  His neighbors, including former NFL star Keyshawn Johnson, have filed complaints about the reckless and dangerous way he drives his various cars around the neighborhood.  He's been warned about the speeding and the noise, but very little has come of it.  This past week, police, armed with a search warrant, looked for evidence of his egging a neighbor's house, doing damage to the tune of $20,000.  They did arrest his friend, Xavier Smith, aka, Lil Za, after finding drugs in the house.
His is not a new story.  As I said, he's just another young person who, through fame and fortune, has started to believe that he's above the law.  He stated as much in this tweet from this past November.
The rules don't apply to him, and unless someone who cares about him starts showing him that there are consequence for his actions, his future may already be written.
I hope it happens before he kills himself or someone else.  On the other hand, those people will have to be willing to risk losing their meal ticket, and that may be even harder for them than watching him quickly turn into another statistic of fame.  In the meantime, he just gave Nancy Grace and Dr. Drew at least a week's worth of their typical hysterical over-analysis on their TV shows.
Empress